[Phish.net would like to offer a super freaky congratulations to our recapper, ZZYZX, who attended his 400th Phish show last night! -Ed.]
One of the advantages of being new to this hobby of following a band around the country---along with not mentally comparing jams to every version you've ever seen and therefore being able to enjoy them more---is that every show gives you a new reason to celebrate. It's my 10th! It's my first time in this time zone! As you stick around, the milestones become rarer; show 60 is an exciting round number but no one can get people to pretend to be interested in 240. However, when you do get them, they're a time to really celebrate.

As anyone who follows me on any social medium knows, 2/25/23---along with being my 100th Saturday show---was my 400th Phish show. The 4th date (if you count the post-midnight segment of 12/31) of the 40th year of Phish gave 400. It was a time for me to reflect, to think about the time and money I've spent (a conservative estimate of an average ticket price of $50 means I've spent $20,000 just on concert tickets alone!). There have been insane adventures. I've met amazing people. It's been the central theme to my everlasting spoof.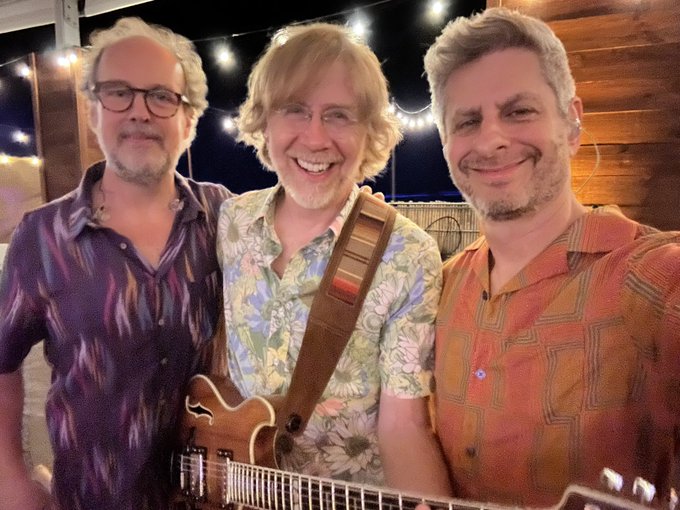 As focused as I was on the whole event factor of this for me, 2/25/23 was also a concert. Phish were playing a series of songs on a beach in Mexico for thousands of people and many more virtually streaming at home. How would it work as a concert? How would it work as a celebration? The only way to find out would be to walk down the stairs from Sombrero, past the floating sheets of projected lights, through the checkpoint, and get past the security guard who pulled me aside for having a clipboard. After a prolonged conversation in Spanish with his supervisor, he mimed me writing and I nodded that that that was indeed my purpose for bringing such a deadly piece of particleboard inside. He left me go and I was free to roam and explore and get churros and see what 400 would bring.
It wouldn't be tradition. For only the second time ever, Phish opened the show with "Gotta Jibboo." It was a solid version, with Trey doing an interesting varia... OK FINE! THE OTHER ONE WAS 6/13/10! MAY I CONTINUE?... tion of the funk siren effect, less for repetition than for punctuation.
"Jibboo" was followed by a "No Men In No Man's Land," with a twist. There have been a lot of songs that have been slowed down lately ("Slow Llama", "Slow Maze", etc), but this was sped up. It's "Fast NMINML"! After a "Steam" that had its visual effect marred by the continued strong winds off of the Caribbean, it was time for some older tracks. "Poor Heart" and "Halley's" both predate my decades of seeing this band. The question for the fan base when the "Comet" comes back around is if it will have an extended jam or not. The answer this night was mostly yes as they kept going for a few minutes before dropping into "Saw It Again," a very apropos song for a night where one might be reflecting on how many times they have seen this.
The thing about making Phish tour a part of your life is that the songs become more of a performance of music. Tour is the time where most of us have our most epic adventures. There are road trips and desperation meals to make sure we have enough gas money to make it to Memphis and terrifying near misses and serendipitous discoveries. This music is the soundtrack to our movies. Over time, songs become more than that: they're touchpoints for our memories.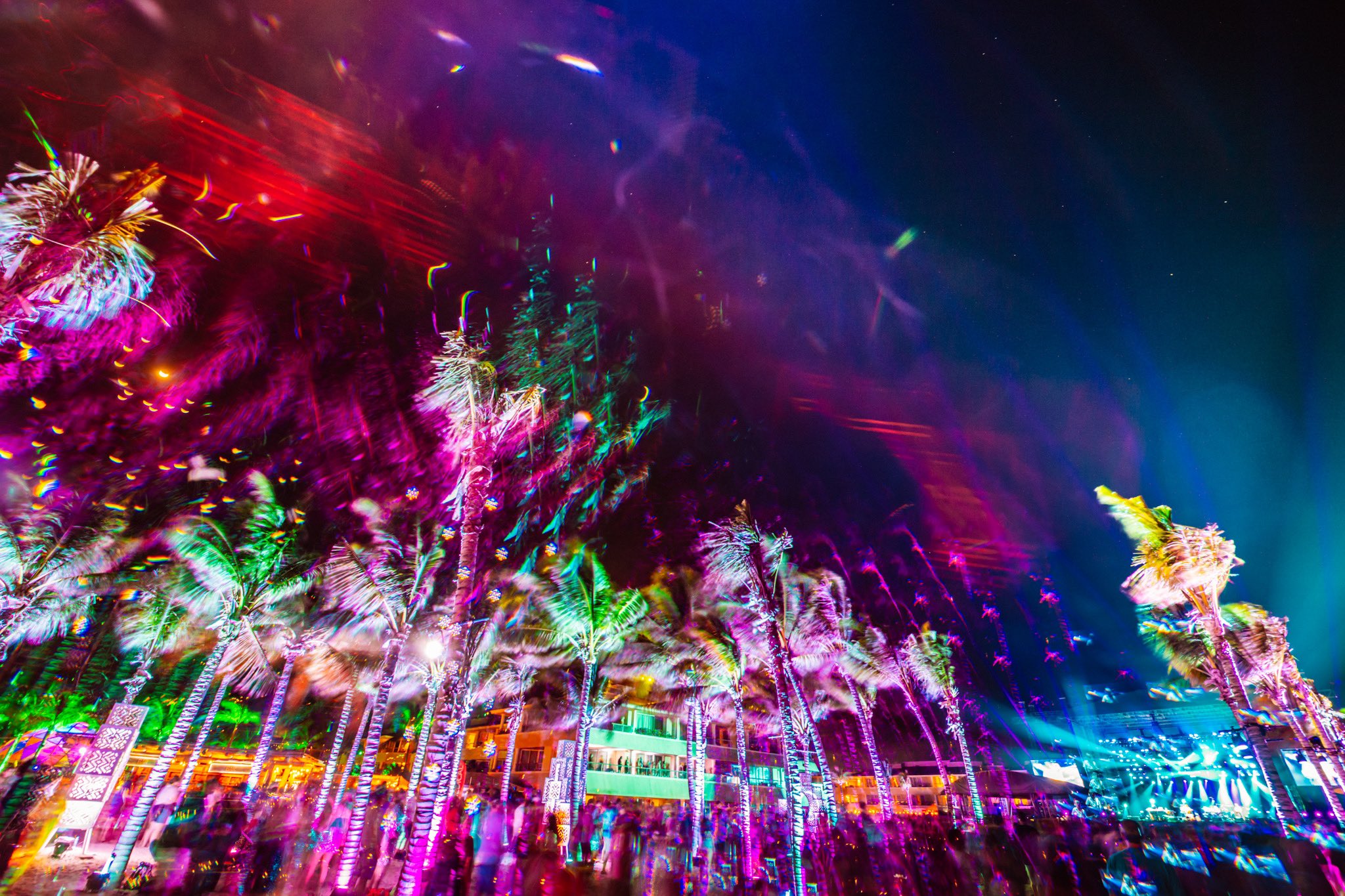 The "Theme From the Bottom" wasn't just the song that followed "Saw it Again," it was the memory of the time when J'eliz and I took the trip to the Gorge in '97 in my then-new Saturn and she thought I would be more comfortable sleeping in the hatchback section of the car. When I told her the next day that that didn't quite work, she sang to me, "I sleep in the front seat, you sleep in the trunk!" "Maze" isn't only a really fun track off of Rift. Ever since Hampton 2009 when I started randomly running up and down the stairs in Section W during the jam, it's become a time where I run around, trying to escape the maze but failing miserably; thankfully there was a narrow band on the beach between the giant glowing iguana and the lit-up signpost where the sand was packed enough to run. I don't want to get all, "The true shows were the friends we made along the way," but there's truth to that.
The first set was divided into three parts. Relatively new songs in the beginning, older in the middle, and then it concluded with back to back original songs that were brought into the fold: Ghost of the Forest's "About to Run" (about to? I just did!) and Vida Blue's electronica sounds of "Most Events Aren't Planned." The latter especially came to a really nice peak as we headed to the break.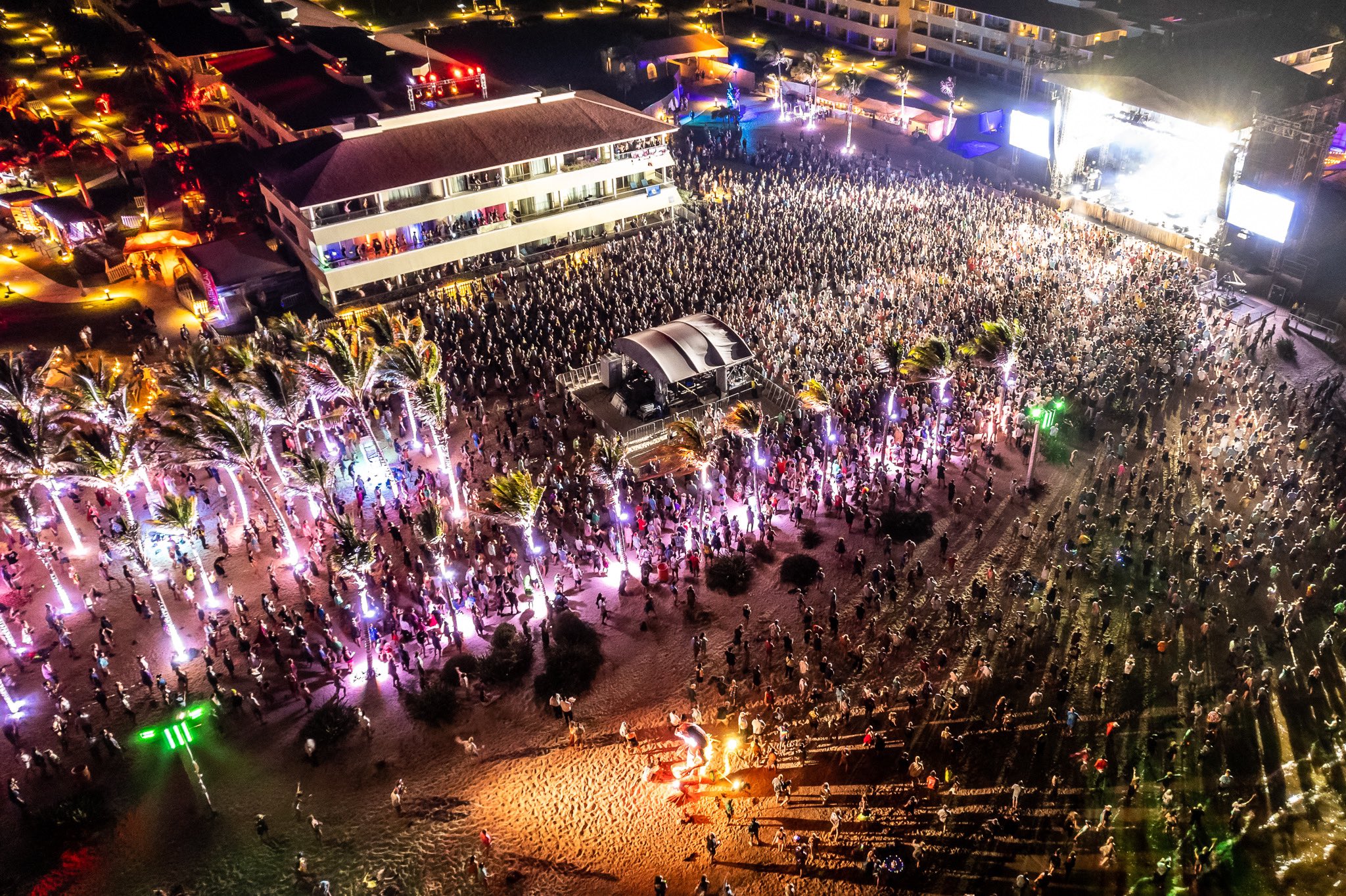 My 841st set of Phish had the first extended jam of the run. "Down With Disease" clocked in around 24-25 minutes. The jam focused more on beauty than energy or spaciness, the kind of jam that sneaks up on you when you relisten on a random Sunday and exclaim that you had completely forgotten about that one. It segued into "Golden Age" and, in this moment, the entire course of the run would change.
One of the joys of seeing Phish in Mexico is to chill in the Caribbean and listen to Phish play while you splash and float or even just put your feet in the water. Due to some seaweed issues, the resort had been very strict about us entering the water. The weed had eased over the course of the event, there were fewer people along the shore to keep us out, and the dam broke. Dozens ran to the shallows, dancing in the waves. The rest of the night would be a battle between the one security person armed only with a flashlight and a confused expression and the fans whose joy could not be contained, but we did indeed clap our hands because we knew for sure that we were in the right place. "Soul Planet" continued the joy of having the water opened to us. Damn straight that this offshoot of the ocean was love!
The show was winding down, but it wasn't out yet. We had two more surprises, not of setlist but of style. A common lament among fans is that "Piper" has lost its slow build. Tonight was a first attempt to return it. When there's a minute or two of the slower playing of the theme, the contrast of the intense peak later in the jam is much stronger. The "2001" that followed was perhaps the most interesting version in years. The segment between the "verses" of the actual song was filled with abrupt time changes and weird effects from Mike and Page. It's one of the reasons to keep coming back. At any time, in any song, even this late in their career they can bust out a moment that makes you ask, "Where the heck did THAT come from?"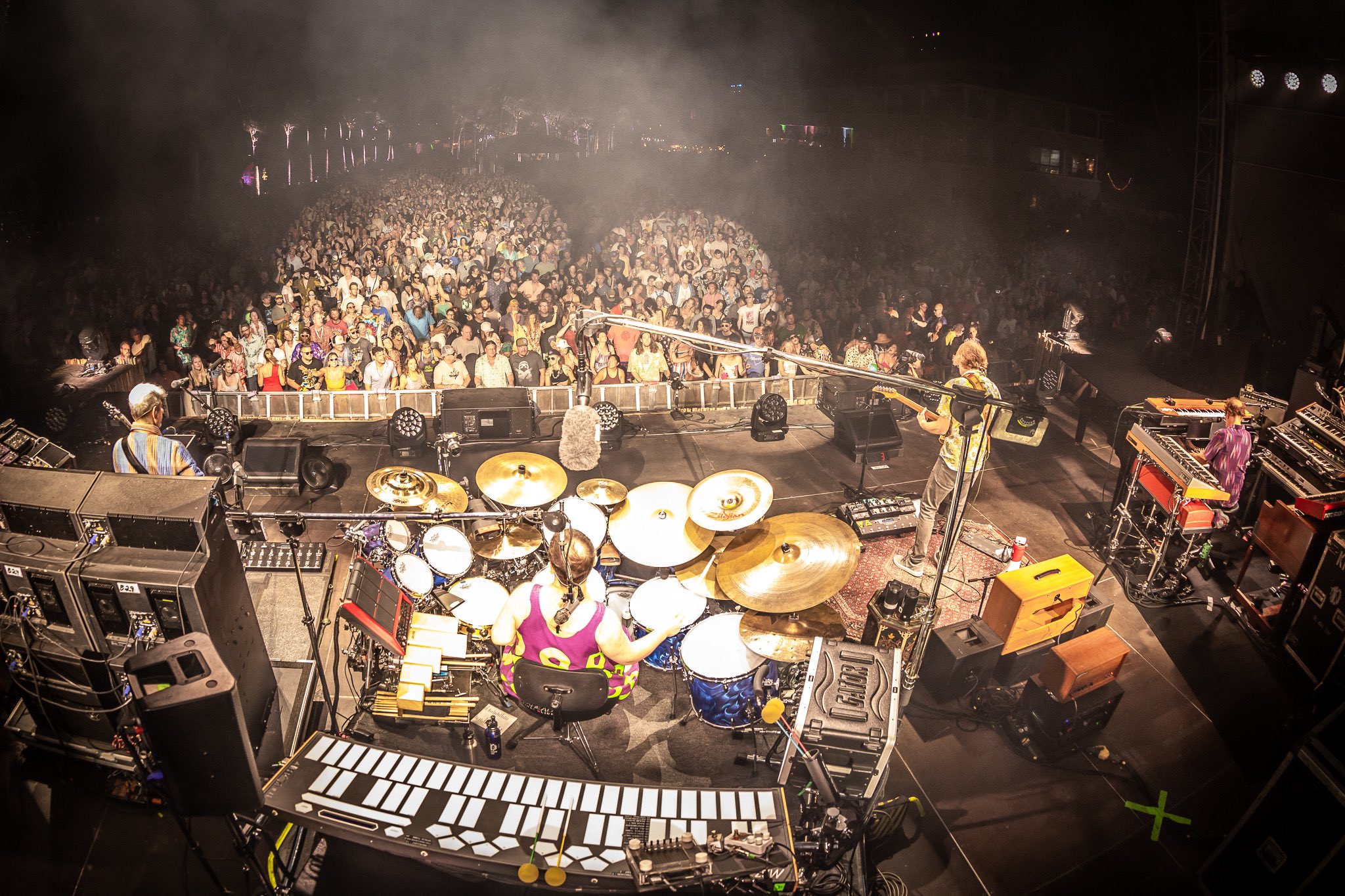 Towards the end of James Robinson's run of Starman, the titular character and Superman have a conversation about those heroes who stick around versus those who make it a part of their life and then move on. That's something I wonder about with Phish fans. What makes some people get it for a few years, dive deep, and then leave, whereas here I am---along with many of the friends that I did indeed meet along the way---year after year after year? I think the difference can be explained by nights like this one.
February 25, 2023, wasn't an epic Phish show. It wasn't an awful Phish show. It had some great songs but largely skirted the ones I wanted in the moment. There were interesting jams, some high peaks, and a fascinating closing half hour of the second set, but I suspect it will end up largely be overshadowed by the previous night (Friday night). I think those who leave are the ones who get bored by the good nights, and end-up chasing the best of the best. Thirty-four years and 400 shows into this journey, there's still nowhere that I'd rather be than dancing on the beach to a "Fee" encore with people I love. Thank you Phish for letting me be along on this ride. Seeing how you're still discovering new ways to create music, I don't intend to stop anytime soon.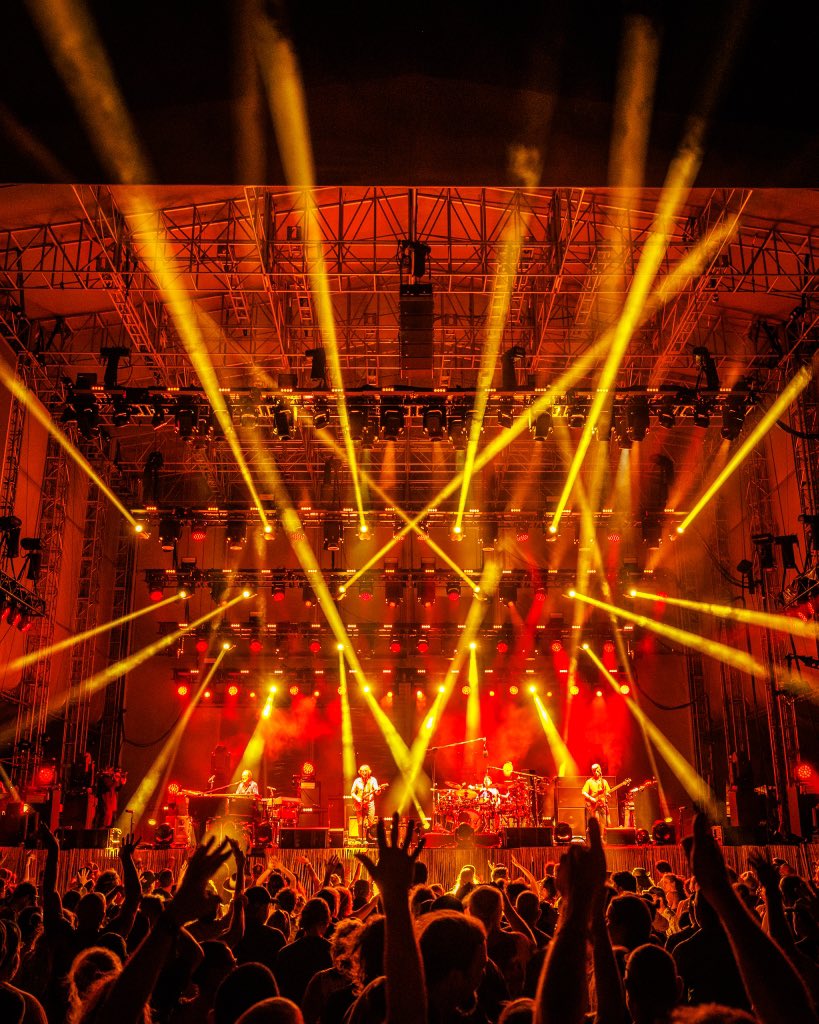 If you liked this blog post, one way you could "like" it is to make a donation to The Mockingbird Foundation, the sponsor of Phish.net. Support music education for children, and you just might change the world.